" To realize his mother's dream, running a B&B on the Adriatic Coast, Didier Van Bellinghen from Belgium sold everything he had and opened one of Croatia's first "Robinson styled" accommodation in Gromin Dolac, on the island of Hvar ! "
The backpackers paradise on Hvar island
It's easy to find foreigners starting a new business idea on the Croatian islands but the story of the Belgian Didier Van Bellinghen is a wonderful example, opening one of the first "Robinson styled" accommodation in Croatia now 2 years ago!   Driving down the narrow dirt road, which has not changed much since the 80's when it was built, overlooking the tiny island of Sćedro , an island situated on the South coast of the island of Hvar, we finally discovered the 10 wooden beach huts looking like tents… we were in Cast Away.
" Every beach hut in Cast Away overlooks the Adriatic sea and surrounded by pine trees , the guests fall asleep to the orchestra of the crickets. There are no coffee bars, no restaurants or night clubs here.  Starry nights light up the resort "
Didier is connected to this part of the world and his family ties came through his mother, who was from Sarajevo.  His parents met in 1966, when Didier 's dad, a young man then, left on a road trip to Greece with his parents with a stop in Sarajevo. They stayed with a local family who offered them accommodation.  It was a family of 4 daughters and one of the daughters, Ljiljana Dusper stayed in contact with the young Belgian Robert.  Over the years, they were pen pals and Robert kept coming back to visit her in Sarajevo until they married in 1970.  Didier's mom, Ljiljana, followed her husband and moved to Belgium in the small village of Perk, a town not too far from Brussels.  Even though her life in Belgium was very good, Ljiljana dreamed of starting a business in Croatia and ideally, moving back. "For years she dreamed of opening a B&B on the Croatian coast. I was born in 1976, a year later my sister was born too. My parents looked for a a house on the coast to open a family business in Croatia. They looked on the islands of Korcula, Vis, Solta and finally found the house they wanted in the town of Jelsa on the island of Hvar but the house could not been sold legally" said Didier, who was happily explaining this story to us.
No one to do business with…
My mother then suggested: "let's go to the main square in Jelsa and talk to some people, ask some locals. There must be something good here to be bought, something that we could love and has proper paper work"
Soon, we heard about a property for sale in Gromin Dolac. At the time it was a very isolated little village that was only accessible over the hill via a so called hiking path. "Come back next year, there is not road yet" said the man, who was willing to sell his property to them. A year later the family would return. A road had been built but the owner of the property died and the son emigrated to Germany, and again they had nobody to close the deal with…
The family drove nevertheless to the plot and asked a local man, Ivo Ostojic, if he could show them the property.  Feeling underwhelmed, they asked the helping man if he happened to have any land for sale.  Ivo was willing to sell a plot of land to them.  "And that's how my family finally found a slice of paradise on the Adriatic sea"
Didier spreaded his arm and showed us the incredible scenery of the island from his terrace. "Lavander fields, vineyards, olive trees and for decades, the only way to get here was on donkeys untill the late 70's when the road was built…"
My parents got the licence to built the house back in 1980, a stone's throw away from the shore. Back then it was allowed and the family started to work immediately, coming back every year to build the house with the help of family & friends.  Soon after, sadly, Didier's mom, Ljiljana, passed away. In dispair, Robert put everything on hold in Croatia.
"My sister and I were still young children back then but we continued to come to Hvar over summer with our grandparents but our dad stopped working on the house and even about working in Croatia altogether.  Our mother's dream ended overnight and we stayed solely focused on our life in Belgium.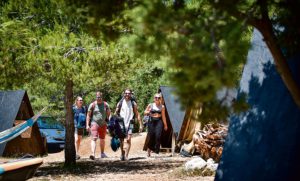 Didier worked for the national Belgian television but after discovering couchsurfing.com on the Internet, a vibrant travel platform where friendly people open their homes to travellers, he started to travel all over the world.  During summer, he came back to his home on Hvar and returned the favor. He opened his heart and welcomed travelers from all around the world. "There were times when this whole area was full of travelers", said Didier looking over the area where the eco resort is now. "There were up to 10 tents, similar to what it looks like now, but people stayed for free, of course. Travelers stayed for as long as they wanted. Most of those encounters were very interesting".
Didier spent many hours and days engaged in conversations with his guests. Often leaving them in disbelief that the family had given up on working in tourism.  Enchanted by the pristine nature and the beauty of the entire island, many of his guests suggested him not to return to Belgium, but to embrace this slice of paradise, encouraging him to continue building his mother's dream.
"My sister and I were far away from it. We both had our careers, commitments, and lives in Belgium.  We knew we could not invest ourselves in Hvar, the dream part time, half hearted.  It would require full commitment and meant even leaving our lives and everything we had in Belgium, behind. 
Welcoming travelers from around the world gave me the inspiration to travel more.  After a bunch of trips, I decided to take a gap year, back in 2013 where I explored India, Cambodia, Vietnam, Laos, Thailand, New Zealand, Tasmania, Australia Indonesia, Malaysia, the Philippines, Hong Kong, China, Fiji, Hawaii, USA, Galapagos, Ecuador, Bolivia, Peru, Chile, Argentina & Brazil.  After visiting all these places – you can imagine how intense that was – I returned home to my tiny editing room to carry on with my daily job in video and TV editing.  I realized that I had changed and that there was no way I could continue this kind of life.  Being confined to just four walls, staring at the screen most of the day, it was draining my soul.  9 to 5 work was not for me anymore.  I traveled the world, saw all those places and tasted how my life could be. I saw how different people runned hostels & other resorts and decided to move to Hvar and work on my own dream on our piece of land over summers. Over winters I would travel".
Bed in exchange for work
Didier did not have the money to finish the house but he had something more valuable: international contacts, experience in traveling and sharing the way of life with people from many different cultures and backgrounds. It was not based on commercialism, but on coöperation and mutual interests instead, just like couchsurfing, where people welcome travelers into their homes for free, offering modest accommodation, a bed in the living room or just a safe and clean space for a sleeping bag.
Three years ago, Didier organized a crowdfunding campaign and received some donations over a website called Travelstarter.com.  Donations came from around the world and with the money, he bought a power generator and some building material. On a different website, Workaway.info, he found volunteers from different continents, who gladly came to Hvar, camped in his front yard and in exchange, would work a few hours a day cleaning up the property of bushes, rocks and anything that was not needed.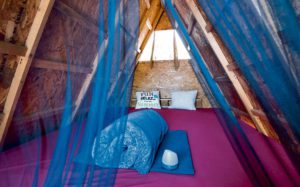 Two years ago he built the first beach huts, each one named after a family member.  After that, he sold his house and his car in Belgium and everything else he owned to invest it all in his project on Hvar.  His dad said that he must have lost his mind.  "My dad told me that I was making a huge mistake, that I would lose everything and that nobody would come to Gromin Dolac, in the middle of nowhere. I on the other hand, after traveling extensively and seeing what today's travelers are looking for, had faith. Faith that many of them will be looking just for this kind of unique accommodation experience, wanting to come to this remote location. I spent all the money I had on continuing building the house my parents started, and the rest, the finishing touches I will have to finance soon with a loan.  In the meantime we will continue with the Robinson accommodation.
This is our second season and it has been better than ever expected.  In the beginning, I had the help of volunteers but now I work exclusively with  employees. Mostly foreign travelers who stay for a few months at the time"
This summer, alongside the owner, the staff consists of a Lithuanian, a British and a Belgian, Heidi Piot.  She visited Gromin Dolac a few times over the years and knew exactly what to expect.  Not long ago, she packed her stuff and came to Hvar to work.  "I've been in the tourism industry for a long time. I worked all over the world, in five star hotels in Greece, Spain, Tunisia, Canada, Australia, on cruise ships in the Mediterranean, the Caribbean, etc.  Didier contacted me because I have a lot of experience, because he knows I am a globetrotter just like him and because I love to work outside my home country, Belgium. This job suits me very well. I traveled the world and I can, subjectively of course, say that Croatia is the most beautiful country I have ever seen. Regardless of how popular Croatia is, what attracts most people here in Gromin Dolac is the isolation, the peace and quiet, away from the summer crowds. And of course the incredible nature".
The first guests arrived in April already. The summer on Hvar practically starts then.  "Last year I had my first guests in May and only 2-3 huts at the time.  I expected the same for this season but we are fully booked from May up until the end of September", said Didier. 
Besides the individual guests who find Cast Away on different forums,  booking sites, websites for backpackers and lovers of Robinson styled places, more and more organized groups are coming. Yoga teachers love  to hold retreats, some organize workshops on spirituality & personal growth.  In September a good portion of the resort has been reserved by a Belgian psychologist.  She will bring some of her clients here, mostly people who are looking to destress, to digital detox…. to connect with nature & with themselves. People, burned out from modern daily life and a stressed lifestyle.
Minimal civilization, maximum serenity
Protected from the blazing sun, in the shade of pine trees, every beach hut overlooks the Adriatic Sea and puts the guests to sleep with it's never ending melody. The waves, gently caress the rugged rocks and white pebble beaches. Every morning,  the tireless cicadas, awaken by the heat of the morning sun, slowly wake the guests. Calling them to get up and to enjoy another day in paradise.
There are no coffee shops, no restaurants, no night clubs here. At night, the path between the huts is lit by countless stars, sometimes by the moon. Serenity reigns. 
Most guests are greeted at the ferry terminal in Stari Grad.  After that, they stock up at the local supermarket on food and anything else needed for their stay at the Robinson styled accommodation where besides the nature, bikes, kayaks & paddle boards, not much else is offered.
"It feels like I am at the end of the world.  It's so quiet and beautiful here.  Since I arrived yesterday, I feel like I have been dreaming", said Anne, a guest from the UK.  Most guests are young and come from Western Europe.  Under the shade, around a big table, a group travelers that just met at Cast Away, are playing cards.  A traveler from New Zealand, visiting a few countries in Europe, said that he heard about Cast Away on one of the travel forums. "I look for this kind of places, in nature, with minimal civilization and unnecessary comfort, maximum serenity".  Most guests stay a few days, coming from every continent. 
"On the island, more and more young people work in tourism and we all want to extend the season. Especially this year when the weather has been in our favor. But to bring tourists here in April is very difficult. There are some that want to come but there are logistical problems. In Zavala everything is closed except for one bakery that is opened all year long. I think that there would be work over the mild parts of winters. But the tourists would expect grocery stores, restaurants to be open. Older locals say that we would not have guests coming here in the wintertime, but the younger generations believe it is possible", said Didier mentioning Mljet, the small island south-east of Hvar he visited last November. "The weather was amazing, the island looked like from a fairy tale, but everything was closed. Unbelievable. Half of the island is a national park and I strongly believe it would be a place to go to even in the winter. But, again, for that to happen you need open stores, restaurants…. Croatian economy relies heavily on tourism and I believe it's a matter of time to see the season slowly being extended".
Written by: Karmela Devčić
Translated by: Goran Kožul
Photography: Ante Čizmić – CROPIX
Published by: Jutarnji List – National Croatian Newspaper / Sunday, July 29th, 2018