After road tripping for about two weeks along the beautiful coast of Croatia, we arrived at our final stop: Hvar island. Unexpectedly wild and hilly landscape, little population, crystal-clear waters and a cliffy coastline with pebbly beaches. Croatia at its best!
Located on the south coast, you will have the opportunity to discover the Cast Away ecovillage. Here you can experience what it's like to sleep in a tent-like beach hut, with the Adriatic sea right in front of you.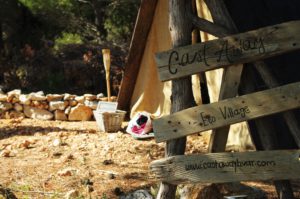 The way to Cast Away is part of the adventure. If you arrive by car you will find some twisted turns on the road, a tight long tunnel and at last a dirt road through the bushy and amazing landscape of Hvar.  You can also be picked up for free at the ferry port by a shuttle, if you prefer that.
At this remote and unique spot, the host Didier and his volunteers are building up an ideal place to relax, do outdoor activities and have plenty of adventures in a social and open minded environment.
When we arrive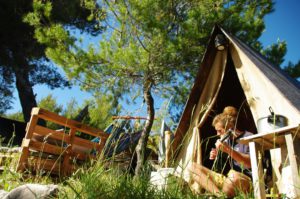 d, they received us with open arms, a lot of smiles and a fresh local welcome drink. After getting to know the people, we got to know the place. The spacious beach huts are equipped with comfy mattresses, camping lights and mosquito-nets, surrounded by trees, hammocks and sofas to chill. The kitchen and bathroom facilities are shared by everyone.
The beach is right next to the camp and gives great place for snorkeling, kayaking or other sea activities. All around the ecovillage there are walking paths that can be explored by feet or by mountain bike.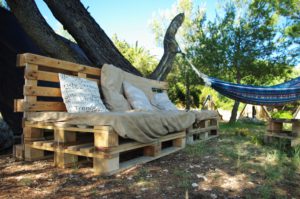 One of the volunteers offered to show us some secret spots around, including private beaches, caves and nice spots to watch the sunset.
Currently, they are building an apartment house that will complement the beach huts and give opportunity to the ones who seek more conventional sleeping spaces while experiencing this place. Also new bathroom and kitchen facilities for the campers are being created at the moment.
Overall you can definitel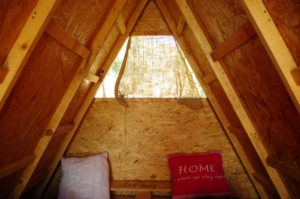 y relax out there and purely enjoy the ocean breeze and nature of Croatia in an authentic way. And be aware, you might get asked to join the group and go out for a pizza in the nearby village. We recommend it!
Written by Carolin Puchert & Nuno João Fede Ferreira
You can find the original "Campr" article here